---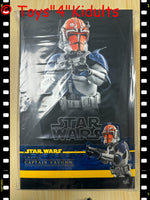 Sale
Amazing service as always
Purchases from Toys4kidults numerous time, well priced, fast dispatch, well packed, outstanding service and communication. Puts other sellers to shame.
Great Buy! Will buy more from here!
I at first was worried about the pricing this figure had, seemed almost too good for a figure so new, but damn was I wrong. Quick delivery in Italy, and the first time I didn't have to pay any form of import tax for the figure
Came perfectly without a dent, and Vaughn is a great figure for my 501st Collection! Will certainly buy from here once Jesse releases!