---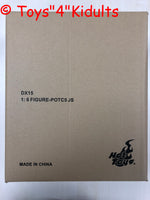 Sale
Hottoys Hot Toys 1/6 Scale DX15 DX 15 Pirates Of The Caribbean Dead Men Tell No Tales - Jack Sparrow Action Figure NEW
Toys4kidults
Sale price 4,880.00 Regular price 5,460.00
Global Free Shipping
Condition: Brand New, Unused, Unopened, In Stock


We don't offer any refund or exchange for any leather problem which is the common problem for this item even the box is unopened.
The Hot Toys brown shipper box is sealed. 
Packing Materials: Bubble Wrap and Cardboard Box
Free Shipping to Worldwide by Registered Airmail with Tracking Number.
Ship within 3 Working Days.
The 1/6th scale Captain Jack Sparrow Collectible Figure special features:
- Authentic and detailed likeness of Johnny Depp as Captain Jack Sparrow in Pirates of the Caribbean: Dead Men Tell No Tales
- Approximately 30 cm tall
- Body with over 30 points of articulation
- Highly detailed hair sculpture with fabric hair implantation, new accessories, and red bandana
- Two (2) interchangeable faces with patented Interchangeable Faces Techniques (IFT), separate rolling eyeballs, real-like beard and plaits on chin
- Seven (7) pieces of interchangeable hands including:
One (1) pair of hands for holding flintlock pistol
One (1) pair of hand for holding sword or scabbard
One (1) pair of hands showing his iconic gestures
One (1) index finger pointing right hand
- Each piece of head sculpt is specially hand-painted

Costume :
- One (1) leather-like detachable brown-colored hat
- One (1) piece of cream-colored long-sleeved shirt
- One (1) blue and brown colored patterned vest
- One (1) dark brown coat
- One (1) pair of dark brown pants
- One (1) dark brown belt
- One (1) light brown belt
- One (1) snakeskin leather-like belt
- One (1) dark brown leather-like patterned shoulder band with saber sheath
- One (1) pair of brown boots

Weapons:
- One (1) saber
- One (1) knife
- Two (2) flintlock pistols

Accessories:
- One (1) scarf
- One (1) fake-fur
- One (1) small batch of fabric hair on belt
- One (1) compass
- One (1) short tube telescope
- One (1) head sculpt of his mother with gold-color ornaments
- One (1) duck foot sculpture
- One (1) rum bottle
- One (1) Jack Sparrow warrant poster
- Two (2) wrist bands of different styles
- The Black Pearl in a clear bottle
- Specially designed pirate themed diorama figure stand with translucent ocean water effect, dead shark, and parts of a ship