---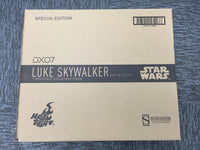 Hottoys Hot Toys 1/6 Scale DX07 DX 07 Star Wars - Luke Skywalker (Bespin Outfit Version) Special Edition Action Figure NEW
Toys4Kidults
Regular price 5,150.00
Global Free Shipping
Condition: Brand New, Unused, In Stock
The Hot Toys brown shipper box was opened once for quality checking.
Packing Materials: Bubble Wrap and Cardboard Box
Free Shipping to Worldwide by Registered Airmail with Tracking Number.
Ship within 3 Working Days.


We don't offer any refund or exchange for any leather problem which is the common problem for this item even the box is unopened.



The 1/6th scale Bespin Luke Skywalker (Bespin Outfit) Collectible Figure specially features:
- Authentic and detailed fully realized likeness of Mark Hamill as Luke Skywalker in Bespin outfit in the Star Wars movie
- One (1) newly developed head sculpt with Parallel Eyeball Rolling System (PERS)
- One (1) newly developed battle damaged head sculpt with Parallel Eyeball Rolling System (PERS)
- Movie-accurate facial expression with detailed wrinkles and skin texture
- Approximately 30 cm tall
- Two (2) TrueType bodies with over 30 points of articulations
- Ten (10) pieces of interchangeable palms including:
One (1) pair for gripping unlit lightsaber
One (1) pair of fists
Three (3) pieces of relaxed palms
One (1) magnetic severed right palm stump
One (1) right palm for holding blaster pistol
One (1) left palm for force push
- Each piece of head sculpt is specially hand-painted

Costume:
- Two (2) sets of costume including:

Style 1:
- One (1) khaki jacket
- One (1) tank-top undershirt
- One (1) pair of khaki pants
- One (1) leather-like brown belt with blaster pistol holster and pouches
- One (1) pair of fabric camel-colored boots

Style 2:
- One (1) battle damaged khaki jacket
- One (1) tank-top undershirt
- One (1) pair of battle damaged khaki pants
- One (1) leather-like brown belt with blaster pistol holster and pouches
- One (1) pair of fabric camel-colored boots

Weapons:
- Two (2) blaster pistols
- One (1) unlit lightsaber
- One (1) unlit lightsaber handle

Accessories:
- One (1) interchangeable severed right forearm stump
- One (1) auto-tourniquet
- One (1) light-up Weathervane stand which can be hung onto the wall, panel or ceiling with screw and allows 90º movement
- One (1) figure base and one (1) figure stage with Luke Skywalker nameplate and the movie logo

Bonus Part:
- One (1) spectral, damaged Vader helmet, with Luke's face revealed

Artists (Both head sculpts of Luke Skywalker & the bonus part):
- Head Sculpted by Kojun
- Head Painted by JC. Hong
- Head Art Directed by JC. Hong